Alves Kunlun acquires the Dalian plant of French vitherm company, and the two sides sign a strategic cooperation agreement between China and France
Release time: 2019-11-29
Read: 489
Return list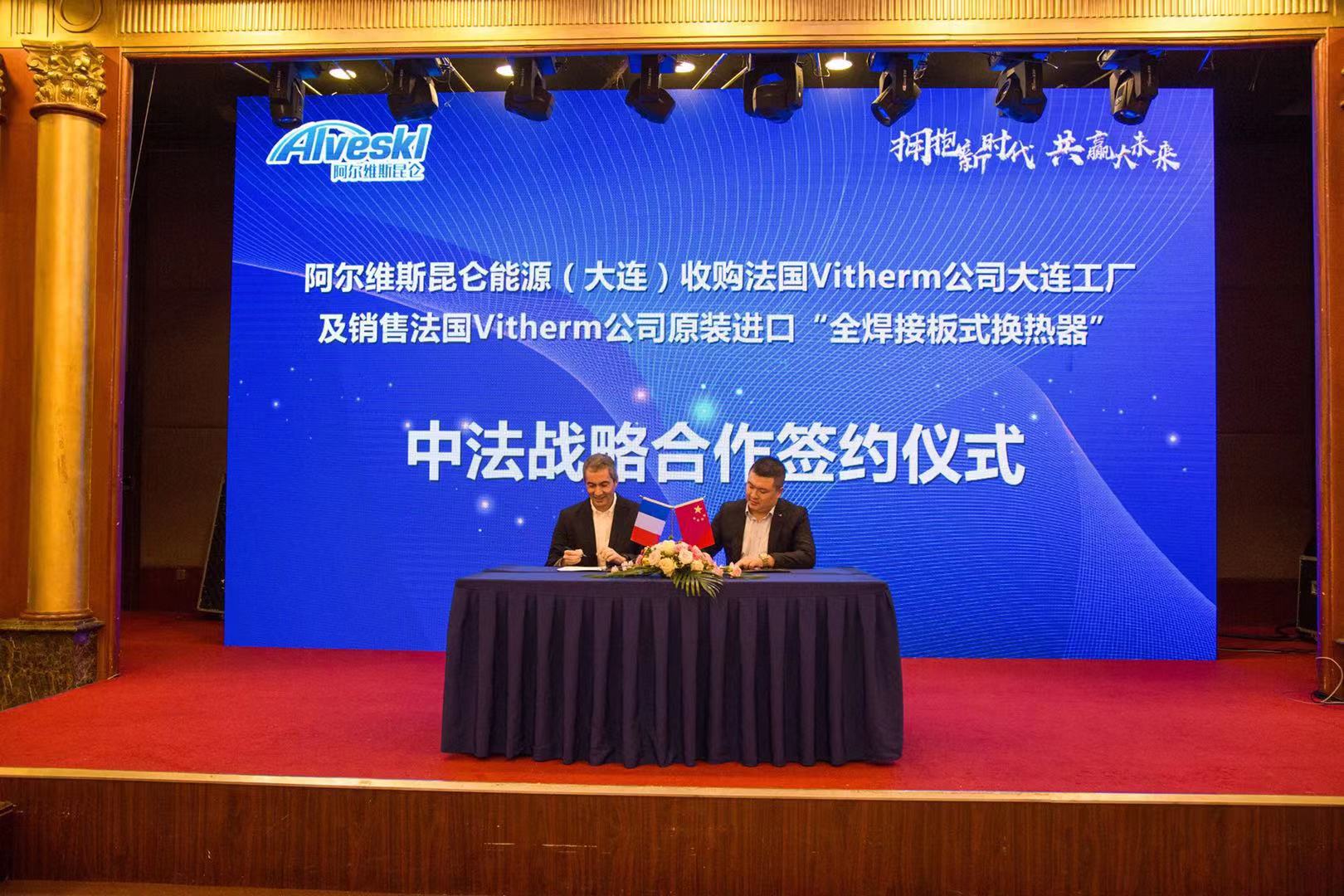 In September 2019, Alves Kunlun Energy (Dalian) Co. , Ltd. acquired the Dalian factory of French Vitherm company and sold the French Vitherm company's original imported full-welded plate heat exchanger. Mr. Kim Yeong-cheol, Chairman of AlvesKunlun,and Mr. Thierry Jose Sirba, president of Vitherm, France, attended the signing ceremony.
Vithermis a French/Singapore companywith more than 65 years expertise in the design, production, application, marketing and sales of industrial pressure plate and plate heat exchangers.
Vitherm boasts some of the world's most advanced technology supported by a worldwide team of experts and distributors.
Vitherm is one of the leading suppliers of Plate Heat Exchangers and Weldpackin the market place; efficient, technologically advanced and installed worldwide in various industries, they are a must for any industry application requiring an efficient and economical heat transfer.
The company owns a portfolio of unique technical innovations and patents.
Vitherm process industry design assures the correct application of the technology to yield long life and trouble-free installation, with decades of global experience in thermal technology systems production and engineering.
Vithermcombines the highest levels of technology and expertise to provide the best solution to any energy handling problem. Vitherm provides all customers with top quality products and services providing intelligent solutions; the most dependable and flexible heat transfer vendor resource in the world.
The company process technology priority is to deliver to its customer's high technology, environmentally friendly processes, offering a constant improvement in performance, energy efficiency and operating costs.
The company's heat exchangers, designed for extensive, low maintenance lifetimes with easy access for regular servicing, are currently manufactured in unique state of the art manufacturing plant d in Saint Geoir, France as well as in Asia. They are engineered to meet the company customer's process requirements, as opposed to expecting customer process to meet the needs of any standard products.
With service centers in South America, Europe, Asia and Africa, and manufacturing facilities in Europe and Asia, VTM offers a full range of plate and welded plate heat exchangers。
Vitherm Mission Statement
To offer our customers continuously evolving processes and technologies to make their processes more productive, energy efficient and financially competitive.
To assist our customers around the world to optimize their processes in an sustainable and environmentally friendly way
To design equipment and processes that meets specific customers' requirements
To continuously and relentlessly research and develop technologies, know-how and processes to optimize the performance of our customers' processes
Vitherm Certifications
ISO 9001 Certificate
ASME Certificate
NB Certificate
SQL (China)
GOST Certificate